The project was born and revolves around the graphic and figurative arts laboratory of Team Art Studio in Matera. Team Art Studio is the operational base where artistic craftsmanship artifacts take shape at the hands of professionals who have been involved for years in the design and creation of public art works and design items identifying the Lucanian territory. In addition to its commercial function, the space aims to increase the local cultural and recreational offer and beyond. The Team was originally formed thanks to Marìca and Gianni, professionals active in the processing of materials of artistic value. On the occasion of the "Hubout" call, the team was joined by Carla, Silvia and Marika, cultural operators, experts in raising awareness and involving different types of public in educational-recreational cultural activities.
The challenge is to give life together with the CREAS project – timeless hands; this is an opportunity to experience the beauty of manual printing techniques with the guests of the RSAs.
The patients of the nursing home are transformed into craftsmen taking part in the creation of the products starting from the initial design phase up to the final step of manual printing on fabric.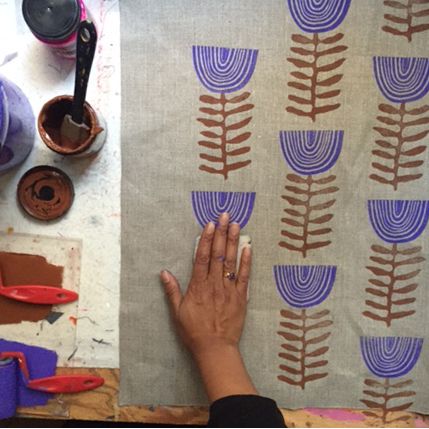 The silver age as a constructive phase of life, a moment in which to continue learning by creating textile supports (placemats, kitchen aprons, hand-sewn bags …) that will enter our homes through symbols, colors and details that will bring a point of sight, a story, an emotion. Starting from waste materials and objects of common use, the techniques of manual printing by impression will be used to create collections to be marketed in the Team Art Studio space and online. For each item sold, a percentage of the proceeds will be donated to the RSA and reinvested in the purchase of goods and services aimed at improving the quality of time for the guests of the structure.
The elderly then becomes part of a production cycle in which his product generates an economic return useful to himself and to others.
We like to imagine that the CREAS project – timeless hands in 5 years can become a reference point for RSAs throughout the Lucanian territory and beyond.
Italy is the country with the oldest population in Europe and the elderly are those who most need forms of closeness that make them feel less alone and fragile. During the pandemic, art represented a valid "drug" to this problem.
CREAS – mani senza tempo has among its objectives that of being able to change the perception that has always been had of retirement homes, as sad and isolated places and to give quality to the time spent inside them, giving back to its guests a new "youth. ", Made up of creativity and relationships.
Do not hesitate to contact us:
Email: team.art.ita@gmail.com